What does vibrant stencil art (watch video) and dense legal comments have in common? We use them both to protect the estuary from LNG.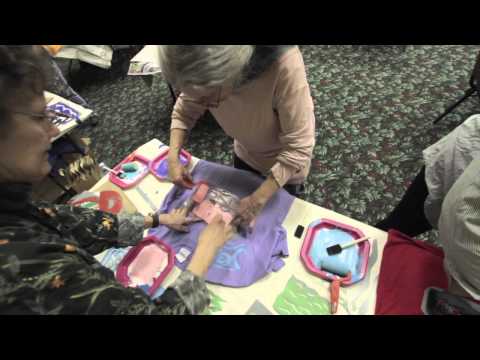 On Thursday, January 22, over 50 people gathered in Warrenton to learn more about the impacts of the Oregon LNG project on public safety and critical salmon habitat. With help from artist Janet Essley, participants in the meeting created new stenciled artwork to express their love of the estuary and their concerns about the Oregon LNG project. The event was the latest step in raising public awareness about the Oregon LNG project and the role local, state, and federal agencies can play in denying the destructive, polluting terminal and pipeline.
At the same time, Riverkeeper submitted detailed legal comments drafted by our Staff Attorney, Lauren Goldberg, that describe why Oregon LNG's project would violate environmental laws. Read our comments here if you want the full story. Your support powers our in-depth legal analysis, which preserves our right to appeal. Over two dozen fishing, landowner, community safety, and conservation organizations joined Riverkeeper on these comments.
Take a moment today to comment online and explain your concerns about Oregon LNG's impact on salmon, water quality, habitat, and fishing. Click here to tell DEQ to deny Oregon LNG!
Riverkeeper, Agencies, and Tribes Identify Risk of LNG Terminal For Fish and Fishing

Already, Riverkeeper, key local and state agencies, and tribes have identified major problems with Oregon LNG's proposal. These groups and agencies registered their concerns with the Army Corps of Engineers, which must decide whether to approve massive dredging in critical salmon habitat for the proposed terminal and pipeline. In its comments to the Corps, Riverkeeper commissioned an expert review of the proposed Oregon LNG terminal, which concluded, "…it is clear that construction and operation of the proposed OLNG project would negatively impact ESA-listed salmonids of a variety of species and life stages throughout the entire year."[i] Riverkeeper is not alone in raising concerns about Oregon LNG. In comments to the Corps, the Columbia River Estuary Study Taskforce (CREST) summarized Oregon LNG's impact by stating, "The proposed project will impact limited and fragmented habitats and ongoing salmon recovery efforts." CREST continued by explaining that the site of the proposed Oregon LNG terminal would be more appropriately used for salmon restoration, writing, "The entire peninsula has a high potential for restoration, is close to the mouth of the Columbia River, and is hydrologically connected to ongoing restoration work in the Skipanon River, Youngs Bay, and Youngs Bay tributaries."
Not only would the project harm salmon habitat, but it also presents a risk to a vibrant local fishing industry. The Oregon Department of Fish and Wildlife (ODFW) identified major potential disruptions to local commercial and sports fishing because of exclusion zones required for LNG tankers to keep LNG export tankers safe. ODFW stated:,"the application does not adequately characterize the potential for substantial disruption of this socially and economically important fishery during construction and operation of the marine terminal complex. For instance, this fishery experienced 107,700 angler trips in 2014 with a combined catch of nearly 84,500 salmon." Because the Oregon LNG project could disrupt access for fishers and other boaters in the Warrenton area, several fishing groups also urged the Corps to deny the Oregon LNG proposal.
Upcoming Opportunities to Make Your Voice Heard About Oregon LNG
Oregonians and Washingtonians are saying No to LNG, and Oregon's Department of Environmental Quality (DEQ) should do the same! In the next few weeks, DEQ is seeking our input on Oregon LNG's controversial proposal to decimate salmon habitat in the Columbia River for its LNG export terminal and pipeline.
You can ask questions about the Oregon LNG project and demonstrate your opposition to LNG by joining us at a DEQ information meeting in Vernonia on January 29, 2015. We had great turnout in at a DEQ meeting in Warrenton. See Daily Astorian coverage. We urge local activists to attend this meeting to demonstrate your opposition and urge DEQ to conduct a detailed, independent review of Oregon LNG. Please wear red!
Vernonia DEQ Information Meeting About Oregon LNG
Thursday, Jan. 29, 6-8PM.
Location: Cabin in Vernonia, 901 Park Drive, Vernonia, OR.
Oregon LNG cannot build its destructive, polluting terminal and gas pipeline without approvals from DEQ. We need your voice in persuading DEQ to deny Oregon LNG – make that happen by submitting your comment today.
[i] Review of the draft Biological Assessment and Essential Fish Habitat Assessment for Proposed Oregon LNG Terminal Project. Richard Williams, PhD. Clear Creek Consulting. January 8, 2015.
OPB Earthfix Dec.22. 2014
LNG Company Sues Federal Government in Property Dispute
Dec. 22, 2014 (Portland, OR) — The controversial "Oregon LNG" Liquefied Natural Gas (LNG) terminal proposed at the mouth of Columbia River hit an unexpected problem: the company may not have access to the land where it proposes building the terminal. According to court filings, the U.S. government has an easement over the proposed LNG site for disposing dredge spoils. Oregon LNG sued the United States to gain access to the land. That lawsuit is pending, and the resolution of the lawsuit may decide the fate of the LNG export terminal.
"Oregon LNG clearly did not do their homework," said Laurie Caplan, Astoria resident and local activist representing Columbia Pacific Common Sense. "We've been fighting over ten years to protect our community, and this is welcome news."
The U.S. Army Corps of Engineers (Corps) received a permanent right, called an easement, in 1957 to dump dredge spoils on the East Skipanon Peninsula in Warrenton, Oregon—the very site of the proposed LNG terminal—in exchange for opening up the Skipanon River to navigation (see attached map of easement, shown in red). Today, hundreds of salmon fishermen, sailors, and commercial fishermen keep boats in popular marinas on the Skipanon.
"We're pleased that the Corps is standing up to protect access to the Columbia River," said Brett VandenHeuvel, Executive Director of Columbia Riverkeeper. "It's simple, you cannot build a massive LNG terminal where the federal government has an easement to deposit dredge spoils. In addition, siting a massive LNG terminal in the heart of the Columbia River's most productive salmon fishery is a huge mistake."
Legal proceedings in the case, LNG Development Company v. Army Corps of Engineers, Case no.: 3:14-cv-1239-AC, began in August when Oregon LNG filed a Quiet Title action in federal district court against the Corps. The Corps filed a motion to dismiss in November, and Oregon LNG filed an amended complaint in December. The land is owned by the State of Oregon, which issued a lease to the Port of Astoria, who in turn subleased the land to Oregon LNG.
Local residents and conservation groups have fought against Oregon LNG because the project will threaten community safety, destroy salmon habitat, harm farms and forestlands with hundreds of miles of new gas pipelines, and send "fracked" gas to Asia.
Oregon LNG has faced a rocky path over the last ten years since first leasing the property, including: Oregon LNG was the subject of a criminal investigation into its illegal action to obtain the lease; Oregon LNG sued the Port of Astoria when the Port wanted to get out of the questionable lease; and Oregon LNG sued Clatsop County after the County rejected the LNG pipeline application.

Resources
LNG Development Company v. Army Corps of Engineers, Case no.: 3:14-cv-1239-AC
---
Protect the Northwest from LNG Export!
Deadline is Jan. 17, 2015: DEQ and the Corps are holding a public comment period to decide whether to issue key permits for Oregon LNG's terminal and pipeline. Now is the time to raise your voice to convince them to deny these critical permits. Submit your comment today.
---
Columbia Riverkeeper Executive Director Brett VandenHeuvel shares updates regarding the controversial "Oregon LNG" Liquefied Natural Gas (LNG) terminal proposed at the mouth of Columbia River: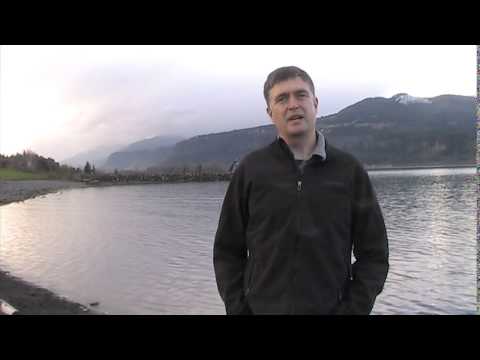 A hydropower dam needs water.  A coal-fired power plant needs coal.  And a liquefied natural gas (LNG) terminal needs natural gas.  For Oregon LNG, Clatsop County's unanimous decision denying the company's permit for a 41-mile long natural gas pipeline stands in the way of its plans to become Oregon's first LNG terminal.  Last year, Oregon LNG sued the County after it rejected plans for a high-pressure natural gas pipeline running through forestland, farms, and wetlands.  On June 30, 2014, the Oregon Land Use Board of Appeals (LUBA) asked the County to take a second look at its decision to deny the Oregon LNG pipeline because one county commissioner was biased against LNG.


LUBA did not reach the issue of whether the County's decision was consistent with local land use laws.  Instead, LUBA found that a county commissioner was biased against LNG development and should have recused himself from voting on the pipeline.  Now the County must take a new vote on whether Oregon LNG's proposed pipeline complies with local laws.
"The County heard overwhelming testimony on why the proposed LNG pipeline violates Oregon's land use laws designed to protect farms, forests, rivers and salmon.  We are confident that when the County takes a second look at this shortsighted gas export project, it will again issue a resounding vote against LNG," stated Brett VandenHeuvel, Executive Director for Columbia Riverkeeper.
Read Riverkeeper's Press Release
Read LUBA's Decision
The Land Board's decision shifts the spotlight to Governor Kitzhaber and his state agencies.  The federal government cannot approve the Oregon LNG export terminal and pipeline unless the State of Oregon approves the project.  Oregon LNG lacks all of the major permits it needs before the Governor and state agencies can sign-off on the project.
Take Action — Contact Governor Kitzhaber Today
Contact Governor Kitzhaber and urge him to direct the Department of Land Conservation and Development to stop delaying and make a final decision to reject Oregon LNG.  Oregon LNG submitted its application without necessary local and state approvals, fully recognizing the gaps in its application.  The State of Oregon should stop delaying and deny Oregon LNG.
Blog post by Dan Serres, Riverkeeper's Conservation Director—
This week, the Oregonian ran a major story chronicling Oregon LNG's failure—again—to obtain state approval for its LNG terminal and pipeline. This in-depth investigative article highlights the emphatic 5-0 rejection of Oregon LNG's project by Clatsop County's Board of Commissioners, who concluded that Oregon LNG conflicts with Oregon's land use laws.
Following interviews with state officials, Oregon LNG, landowners and Columbia Riverkeeper, the reporter describes Oregon LNG's pie-in-the-sky ambitions and the long road ahead.

The $50 million Oregon LNG has spent to date—and fact that it lacks any major state permits—is a testament to all of your hard work and support. We are confident that the State of Oregon has the facts it needs to reject Oregon LNG. For Oregonians who have struggled to protect their farms, forests, and our River, the decision to reject Oregon LNG cannot come soon enough.
The Oregonian. January 9, 2014.
On Tuesday, November 12th, over 80 people from Astoria, Warrenton, Forest Grove, Yamhill, and Washington state urged Oregon Department of Environmental Quality (DEQ) to use its authority to reject the Oregon LNG project. We sent a clear message to DEQ: Oregonians and Washingtonians oppose Oregon LNG and the pollution it would create. Attendees asked pointed questions about how DEQ can use its authority to protect water quality, salmon habitat, and air quality in its review of the proposed Oregon LNG export terminal. The hearing occurred only weeks after Clatsop County Commissioners voted unanimously to reject the Oregon LNG pipeline. Oregon LNG cannot build its proposed LNG export terminal without air and water pollution permits and DEQ has the authority to deny them.
Check out Riverkeeper's letter to DEQ on Oregon LNG's proposed water pollution permit. 
Oregon LNG's Proposed Pollution Permits
Stormwater Pollution Permit: This permit would authorize Oregon LNG to discharge dirty stormwater to the Columbia and Skipanon Rivers while building the terminal.
Process Wastewater Permit: This permit would allow Oregon LNG to discharge millions of gallons of polluted water and stormwater every day of the year. This includes hot water, ammonia, copper and other toxic pollutants.
Air Pollution Permit: This permit would give the green light for air pollution from compressors, vaporizers, ships, harbor tugs, support vehicles, gas-turbines, construction dust and a number of other sources. LNG tankers and the security vessels that accompany them are required to run their engines during the entire cargo loading cycle, spewing exhaust and air.
Commissioners Vote to Reject Oregon LNG Pipeline
On October 9, 2013, the Clatsop County Board of Commissioners voted 5-0 to reject the Oregon LNG project. In particular, the Board concluded that Oregon LNG's proposed 36-inch, high-pressure pipeline violated the county's land use rules. The Board vote received a standing ovation from an overflow crowd in Astoria, most of whom were wearing red shirts to signify their opposition to Oregon LNG's proposal. See next steps at the bottom of this page.
Cheryl Johnson, a retired school librarian and local activist, stated, "We are thrilled that our Commissioners have chosen to respect the overwhelming testimony of their constituents. The people of Clatsop County have been very clear: we value our farms, our forests, and our Columbia River, and we oppose the Oregon LNG export project."
Oregon LNG spent over two years attempting to delay the hearing by the Board of Commissioners, but their legal efforts failed. In the meantime, Oregon LNG converted its project from a proposal to import natural gas to a proposal to liquefy and export gas. Without approval from the County, the project cannot be built.
"Oregon LNG has no place in Clatsop County or anywhere else in the Northwest," added Dan Serres, Conservation Director with Columbia Riverkeeper. "As the Board noted, it's clear that this project conflicts with local land use laws by damaging forests, harming fish habitat, and threatening local landowners. We expect state and federal officials to respect this decision, and to put an end to Oregon LNG's energy export scheme."
Note from local activist, Laurie Caplan, on last night's hearing and major victory
"Here are some inspiring numbers:
The Commissioners voted 5 – 0, unanimously, to DENY the Oregon LNG Pipeline. The hearing lasted four hours, til about 7:30 pm. The commissioners deliberated over specific findings, county rules, Goals, and the Comprehensive Plan. They were intent on doing the hearing as thoroughly as possible, and according to law.  
Some 80+ NO LNGers rallied on 9th and Commercial – many were there 30 minutes before our official start time! See the determined, upbeat, and enthusiastic NO LNGers in the photo.
At least 100 people – virtually all NO LNGers, except for county commissioners and staff – filled the hearing room to standing-room-only.
Columbia Riverkeeper attorney, Lauren Goldberg, was calm, composed, respectful, knowledgeable, and spot-on in her presentation to the county commissioners.  
Stick with us as we go ONWARD TO VICTORY!"
Next Steps & Take Action
Is this the final straw for Oregon LNG? We hope so. The next step in the process is for Oregon to tell the Federal Energy Regulatory Commission (FERC) that the project violates Oregon's management plan under the Coastal Zone Management Act (CZMA). FERC cannot approve an LNG license unless the state says the project is consistent with the CZMA. Here, the project is not consistent because Oregon's coastal plan states very clearly that a project must comply with county land use laws. Therefore, Oregon must reject the project. The Clatsop County decision to reject LNG is a major victory that we've been working on for years. This will be very difficult for Oregon LNG to overcome.
What about preemption? Oregon LNG's new favorite line is that Clatsop County's decisionmaking is preempted by federal law. Not true. While the Natural Gas Act does say that FERC has the exclusive siting authority for LNG terminals and pipelines, the law expressly states that FERC cannot trump the CZMA. Practically, if Oregon LNG really believed that Clatsop County's laws are preempted, Oregon LNG would have applied to the county in the first place. 
So, if Oregon LNG continues the slash and burn approach to endless legal challenges, they might now challenge Oregon's denial of the coastal zone certification. Or they might challenge Clatsop County's pipeline denial to the Land Use Board of Appeals. Is the fight over? No. But Oregon LNG clearly faces an uphill battle.
Get Informed, Speak Out!
For years, we have waited for the Clatsop County Board of Commissioners to move towards a final vote on the proposed Oregon LNG project – a key step in determining the future of Oregon LNG. After years of desperate legal attempts by Oregon LNG to delay a vote, a new hearing is now scheduled for Wednesday, October 9th. Prior to the hearing, on October 3rd, Riverkeeper and Columbia-Pacific Common Sense are planning to have a community meeting at the Warrenton Community Center to share information about the Oregon LNG project and other dirty fossil fuel proposals on the Columbia River. Please plan to join us on both October 3rd and October 9th!
Click below for more information about the events:
October 3rd – Community Discussion About Oregon LNG and Fossil Fuel Exports
October 9th – Clatsop County Public Hearing Regarding Oregon LNG Pipeline
Blog post by Dan Serres, Riverkeeper's Conservation Director—
On a picture-perfect day at the end of the Fourth of July weekend, 25 Oregonians from Portland, Elsie, Astoria, and Jewell met up to learn about the proposed Oregon LNG pipeline, a controversial and destructive piece of the liquefied natural gas (LNG) export puzzle. If approved by the federal government and the state of Oregon, Oregon LNG's proposed 36-inch,high-pressure, non-odorized pipeline would ship natural gas to a proposed terminal in Warrenton, Oregon for export to high-priced overseas markets.
After a brief introduction and discussion at the Elderberry Inn, the group caravanned to a viewpoint on forestland owned by the Oregon Department of Forestry. The area is the location of streams and a spring that provides water for the homes below, including the home and farm of Patrick Dooney and his family. Next, the Dooney family graciously invited our group to walk along the proposed pipeline route through their property. Coming within roughly 100 feet of the Dooney home, the proposed Oregon LNG pipeline would disrupt the water supply of the Dooney family and its neighbors. Nearby, we walked down to the Nehalem River as it was explained how a proposed horizontal direction drill for the pipeline could impact the Nehalem River and nearby land.
To end the day, Pearl Rasmussen, with the North Coast Forest Coalition, led the group to a beautiful patch of state-owned forest near the pipeline route. There, we ate lunch as Pearl described the impact of the proposed pipeline on state-managed forest lands. A new pipeline and right-of-way would exacerbate forest fire risks for residents of Clatsop County and western Washington County.
You can read the Daily Astorian's coverage of the July 7th pipeline tour — "LNG pipeline raises red flags: fire safety and lost land" — here.
Oregon LNG is pushing hard to gain approvals for its LNG export scheme. Riverkeeper will continue to work with people throughout Oregon to put a stop to LNG exports.
Learn more about Oregon LNG's recent application to the Federal Energy Regulatory Commission to export LNG.
To get involved in the fight to protect the Columbia River from dangerous, dirty LNG projects, contact Dan at dan@columbiariverkeeper.org.