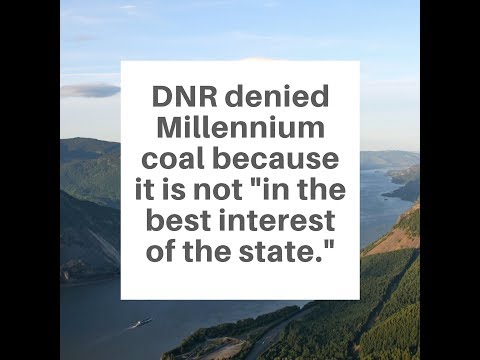 ---
Save the Date 11/2/17: Public hearing on Millennium's Shorelines permits & community appreciation dinner party (if you've attended a rally, signed a petition, or volunteered at a "no coal" event, this party is for YOU!). Remember to wear red and RSVP early!
---
FOR IMMEDIATE RELEASE
Department of Natural Resources Rejects Key Approval Needed for Proposed Columbia River Coal Export Terminal

October 25, 2017 (Olympia, WA)—The Washington Department of Natural Resources (DNR) rejected a key state approval for Millennium's proposed coal export terminal in Longview, Washington. In its decision, DNR cited Millennium's failure to obtain multiple permits, inconsistencies in their site plans, missing critical information, and the overall best interest of the state as reasons for the denial. Because DNR manages state-owned aquatic lands, including the Columbia River, Millennium needs DNR's approval to build new docks and dredge the river to make room for massive coal ships.

Millennium is proposing to build the largest coal export terminal in North America under an existing lease signed in 2008 between DNR and Alcoa, the current owner of the site. The lease states that the tenant is not allowed to "place, construct, remove or demolish" any "improvements" on the site without DNR's consent; consent can be denied wherever "denial is in the best interests of the State." DNR found that the terminal proposal is significantly larger than any of the uses contemplated under the existing lease. DNR also cited Ecology's denial of Clean Water Act certification as evidence the project wasn't in the best interest of the state.
This is the second time this year that DNR has denied a necessary approval for Millennium: in January, DNR denied Millennium's application to sub-lease on state-owned aquatic lands for its coal operations, citing Millennium's history of misrepresenting the true size and impact of their coal export terminal, and a lack of a viable business plan in the face of declining Asian demand for coal. Millennium's challenge to that first denial is pending in Cowlitz County Superior Court, with a hearing scheduled for Friday, October 27.
Today's DNR decision follows the Washington Department of Ecology's recent denial of a required water quality permit for the project, based on the extensive damage the project would do to water quality and habitat in the Columbia River. Ecology found that the project would add 1,680 additional trips per year by large vessels through the Columbia River estuary, permanently fill 24 acres of ecologically vital wetlands and drastically increase toxic coal dust from 75 acres of uncovered coal piles. Millennium appealed Ecology's water quality permit decision to the state Pollution Control Hearings Board yesterday and has separately sued the state over their decision.
"Washington state is protecting our communities, environment, and climate. Building North America's largest coal export terminal is the wrong direction for the region," said Jasmine Zimmer-Stucky, Power Past Coal coalition co-director and Senior Organizer for Columbia Riverkeeper. "The sooner that Millennium ends its coal export pursuit, the sooner we can have a real conversation about powering our economy through environmentally and economically sustainable solutions."
"Clean air and water is part of what makes the Pacific Northwest great. We shouldn't sacrifice that so that desperate coal executives can make a Hail Mary pass as the world turns to safer and cleaner energy alternatives," said Cesia Kearns, Western Deputy Campaign Director for the Sierra Club's Beyond Coal campaign. "This is the third time this year that state leaders have told the company their project would hurt the health of our communities – it's time for the company to take the hint and abandon this bad idea."
"State law wisely requires that Washington's public aquatic lands be leased only when it serves the best interest of the State. Today's decision by the Department of Natural Resources affirms that an enormous coal export terminal on the Columbia River does not serve the public's need for clean water, clean air, and 21st century jobs. As hundreds of thousands of Washingtonian's have made clear in public comments since this project was first proposed:  Washington can and must do better, for our families' health and our economy," said Becky Kelley, President of Washington Environmental Council.
For more information, please see this list of FAQ on the decision from Jan Hasselman, Staff Attorney at EarthJustice.
Background:
Power Past Coal is an ever-growing alliance of health, environmental, clean-energy, faith and community groups and businesses working to stop coal export off the West Coast.  Powerpastcoal.org @powerpastcoal
---