Check out the recent media coverage on Riverkeeper's launch of the Swim Guide smart phone app for the Columbia River!
KGW: http://www.kgw.com/news/Columbia-River-safety-app-unveiled–160477995.html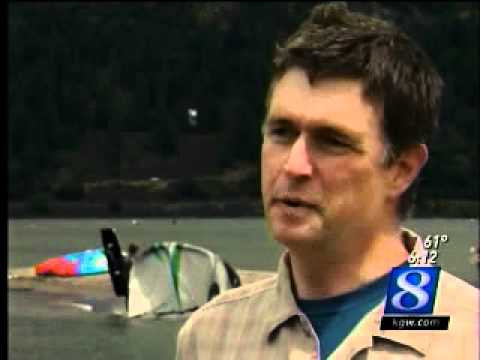 Director Brett VandenHeuvel samples water quality in Hood River with KGW reporters.
Finding and enjoying that perfect place to take a dip in the Columbia River just became a whole lot easier with the launch of the Swim Guide, a new, free, smart phone app (available from App Store, Google Play, or www.theswimguide.org). Managed locally by Columbia Riverkeeper, the Swim Guide helps the user locate the closest, cleanest swim beaches, get directions and view photos.  Utilizing volunteer-collected E.coli data, a bacterial indicator of fecal contamination, the Swim Guide helps determine if the water is safe for swimming. The Swim Guide also allows the user to share the whole adventure with their friends and family on their social networks.
"We want families to know what is in the water and feel safe before swimming.  State and federal agencies do not monitor our popular Columbia River beaches as they do coastal beaches, so Riverkeeper volunteers have picked up the slack," explains Lorri Epstein, Water Quality Director with Columbia Riverkeeper.  "We've monitored Columbia River beaches since 2006 and now the data aer available almost immediately through the Swim Guide."
The Swim Guide is the first-of-its-kind app for water quality in Oregon and Washington.  With 15 new Columbia River sites, the app will be useful to families who want to play in the river, fishermen, windsurfers and kiteboarders, and city and county governments.  The Swim Guide utilizes data for E. coli, but does not include information on other pollutants.
 The innovative app originated with a team from the Lake Ontario Waterkeeper. In addition to Columbia Riverkeeper, several other members of the Waterkeeper Alliance, which includes over 180 "keeper" groups around the world, are now contributing to the Swim Guide. Swim Guide includes descriptions and photographs of beaches across North America, including California, Florida, Alabama, the Great Lakes, British Columbia, Alberta, and now Washington and Oregon. With new beaches added daily, the Swim Guide is rapidly expanding. 
"The Swim Guide provides a free, easy to use, way for swimmers and all river users to find a beach where their families can swim and enjoy the river safely," says Epstein.
---
One Response to "Columbia Riverkeeper Launches Swim Guide App– story featured on KGW News Channel 8"