Crude Oil Shipments Threaten Northwest Communities
The Pacific Northwest is facing a dramatic increase in dangerous oil trains carrying volatile crude oil. Since 2013, multiple proposals have emerged to establish terminals that would carry crude oil through the Columbia River to West Coast refineries or overseas markets. Riverkeeper has worked to stop all new oil-by-rail terminals on the Columbia River because of the enormous risk to public safety, water quality, and other sensitive resources from oil trains.
In June 2016, we experienced first-hand how dangerous oil trains can be when a 96-car unit train carrying crude oil from North Dakota's Bakken formation derailed, spilled, and burned in the small Columbia River Gorge town of Mosier, Oregon.
See a short video with Riverkeeper Executive Director Brett VandenHeuvel: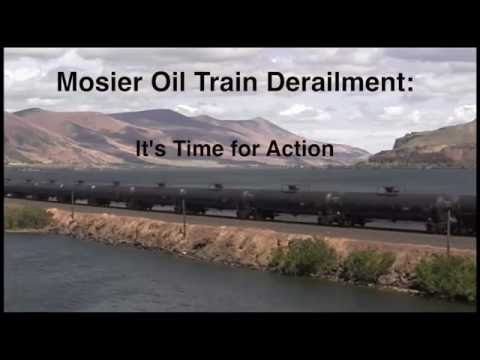 Since the derailment, Northwest communities have leapt into action. Riverkeeper is part of the Stand Up to Oil Campaign, a region-wide effort to stop new and expanded oil-by-rail traffic through the Northwest. Together with partner groups in Stand Up to Oil, we have been successful in stopping several major new oil train terminals already.
Others are taking action, too. Vancouver passed a ban on future oil-by-rail terminals, and Portland passed a comprehensive ban on new oil and other fossil fuel terminals. And tribal leaders, Mosier leaders, and other elected officials throughout the region have called for an end to oil trains through the Columbia River Gorge.
Despite growing momentum against oil-by-rail, two major oil-by-rail proposals still threaten to increase oil train traffic dramatically through our region.
Take Action:
1.) Sign our petition to oppose these projects today.

2.) Attend the last hearings for the Tesoro Savage proposal. This Summer and Fall, we expect Washington's Energy Council to schedule a final hearing about stormwater pollution, and to announce their recommendation to Governor Inslee. Stay connected with us to know when these events are scheduled.
Columbia Riverkeeper is a founding member of Stand Up to Oil, a growing coalition of groups opposed to new oil terminals and an increase in oil transport through the Northwest, while at the same time working to improve safety measures for the oil currently traveling through the region.
Tesoro Savage Proposal at Port of Vancouver, WA
The largest oil-by-rail project in the North America is proposed at the Port of Vancouver by the Tesoro and Savage companies. At 360,000 barrels of crude oil throughput each day, the proposed oil terminal would require up to five mile-and-a-half long unit trains per day. For communities along the Columbia River and the rail lines, the consequences of this project would be staggering.
Since 2013, the Tesoro Savage oil terminal has drawn opposition from a broad array of interests, including: the City of Vancouver, the City of Portland, the City of Hood River, the City of Spokane, Multnomah County, the Columbia River Intertribal Fish Commission and its member tribes, the International Longshore and Warehouse Union Local 4, the Vancouver Firefighters Union, Vancouver 101 (over 101 Vancouver businesses opposed to Tesoro Savage), the Waterfront Development Group, and the Stand Up to Oil Coalition. Even Washington's Department of Natural Resources and Washington Attorney General Bob Ferguson have called for the denial of Tesoro Savage.
Read more about opposition to the terminal here.
Despite this opposition, Tesoro Savage now must get approval from Governor Inslee. The Energy Facility Site Evaluation Council (EFSEC) will make a recommendation to the Governor about the unprecedented crude-by-rail project this summer. Then, the Governor will make the final decision to deny or approve the terminal.
EFSEC published the Draft Environmental Impact Statement (DEIS) for Tesoro-Savage's oil terminal in 2015. Over 275,000 people weighed in on the document, urging EFSEC to deny the Tesoro Savage oil terminal. This was by far the most comments every received by the agency. More recently, EFSEC held a month-long trial-like hearing in July 2016 to evaluate the impacts of the project. Both the EIS and the evidentiary hearing will inform EFSEC's recommendation to the Governor this summer.
You can more about EFSEC's review process here.
Riverkeeper and its allies are maintaining pressure on EFSEC and Governor Inslee to deny the project. We expect a final decision in 2017. The Port of Vancouver can also end the Tesoro Savage project by terminating its lease agreement for the project.
Expert Reports:
After noticing obvious flaws in the DEIS, Columbia Riverkeeper and others commissioned national experts to take a closer look. The experts on seismic risk, air quality, spill risk, and rail safety found that the DEIS fails to disclose the oil terminal's full impacts. The credentials of each expert are included in the reports.
Learn More
The crude-by-rail facility at Port Westward has stopped shipping crude oil. Global Partners began ethanol, not oil, shipments in late 2016. However, the company maintains the necessary permits to resume oil-by-rail shipments in the future. Columbia Riverkeeper continues to watchdog operations at Port Westward closely.
In 2017, Riverkeeper learned that Global Partners sought to purchase additional tank capacity at Port Westward, raising the potential for renewed and increased oil trains moving through Portland, St. Helens, Scappoose, and Rainier to Port Westward in the future. In a short-sighted decision, the Public Utility Commission of Oregon approved the tank sale in June 2017—a move that could lead to more oil train traffic through Portland, Multnomah County. Columbia County and the Columbia River Gorge when oil prices rebound.
Background
In 2012, Massachusetts-based oil company Global Partners LP began shipping crude oil from Port Westward near Clatskanie, Oregon. No public hearings or notifications occurred when the then Columbia Pacific Bio-Refinery transitioned quietly and quickly from an ethanol facility into a crude oil terminal. Seemingly overnight, mile-long unit trains carrying explosive crude oil from the Bakken oil fields in North Dakota, began traveling through the Columbia River Gorge, Portland, and Columbia County to the shipping terminal at Port Westward. From Port Westward, the crude oil is loaded onto ocean-going barges and shipped through the sensitive Columbia River Estuary—the cradle of salmon habitat in the Columbia River Basin.
In 2013 and 2014 four unit trains of Bakken crude oil exploded in North America. On July 7, 2013, 47 people were killed in Lac Megantic, Quebec, when a unit train of crude oil, identical to those traveling to Port Westward, derailed and exploded. Additional derailments and explosions in Alabama, North Dakota and Virginia of Bakken crude oil trains have raised alarms at local, state and federal levels across the nation. The reality of crude oil train explosions prompted moratorium on new crude oil infrastructure in Albany, New York, where Global Partners operates a Bakken crude oil terminal and a resolution by the Seattle City Council opposing oil train transport through the city.
Watch Voices Against Oil Trains – a three minute video highlighting the threats of oil-by-rail in the Pacific Northwest.
A crude oil spill at Port Westward, or anywhere in the Columbia River Estuary, could devastate the Columbia's natural and economic resources. Neighboring industries dependent on shipping would be put on hold until the cleanup is complete, farmers near the oil terminal risk crop contamination and rail communities are put at risk each time an explosive train passes through town.
Global's oil terminal at Port Westward was approved without public involvement. In 2013, Global blatantly violated their permit with the Oregon Department of Environmental Quality and shipped 6 times more crude oil through their Port Westward terminal. On August 19, 2014 the Oregon Department of Environmental Quality approved a new air pollution permit allowing Global to massively expand their oil terminal. This disappointing and dangerous permit allows Global to expand to 36 times more their current permitted amount and bring 50 unit trains of explosive crude oil through the Northwest. Global is ill prepared for an oil spill at their Port Westward terminal and residents along the rail lines are put at risk each time a unit train of explosive crude oil passes.
Learn More
Get Involved
Contact Dan Serres, Riverkeeper's Conservation Director, at dan@columbiariverkeeper.org with any questions or comments related to any of Northwest oil-by-rail proposals OR if you'd like to get involved.